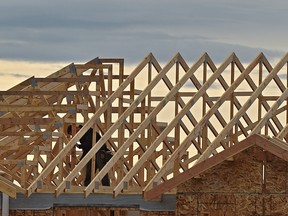 Article content
Creating an inclusive economy where everyone can succeed starts with listening. I have spent time listening to CEOs, student entrepreneurs, employees, and companies of all sizes since I was elected. The biggest thing they tell me is that it needs to be easier, faster and more convenient to do business in Edmonton. Helping Edmonton businesses build and grow was a cornerstone of my campaign and is just as important to me now as your mayor.
Article content
We need to set new and existing businesses up for success. I believe this starts by reducing the time, energy and money businesses spend navigating the city's permitting, licensing and regulatory processes. For many local businesses, this is often the first touchpoint or connection into our organization. Efficient, streamlined services not only help reduce unnecessary barriers for businesses, they encourage financial investment in our city.
Earlier this year, a new business licence bylaw came into effect, which made our business regulations clearer and reduced many barriers for businesses. Improvements include a simplified fee schedule, a discount for businesses who renew on time, and simplified application and renewal requirements.
Article content
The city posts its processing times for development, building and land development applications online. This sets clear, predictable timelines to help businesses plan ahead, saving them both time and money. Other recent service improvements the city has made include the additional support to meet higher permit demand during summer construction season. The city has also started to use remote video inspections (RVI) for building and trade permit inspections. About 12,000 RVIs have been done in the past two years.
The city has also automated a number of services, moving more than 45 of them online, which has now resulted in 90 per cent of permit and licence applications being processed online and 99 per cent of sign permits applied for online. This has cut processing time for all permits, and in half for sign permits.
Article content
It's estimated these service improvements and timeline reductions will save applicants $5.3 million and 67,600 days collectively each year.
Reducing red tape is only one side of the coin. We are also helping businesses start, grow and succeed by providing a wide variety of unique business supports and services. The Digital Economy Program helps small businesses set up things like e-commerce or a social media strategy.  The city also hosts workshops and presentations to help small businesses prepare for the regulatory processes of starting or growing a business. One-on-one business service experts also help guide businesses through city processes, such as the licensing and permitting process.
There are also grants Edmonton businesses can access to stimulate commercial development, improve exterior facades, expand patios, install murals and invest in energy-efficient upgrades.
Article content
While we are making progress, I assure you, we are not done yet. The city is working on an integrated application process, so that business owners access services based on the type of business they want to open, not the type of permit they need. Zoning and safety code feedback are also being streamlined, which will reduce time-consuming requests for additional information.
Starting or owning a business takes hard work, tenacity, vision and creativity in order to succeed. I want to build a city where business owners view the city as a competitive location, and the city government as a reliable collaborator and a fair regulator. Edmonton is a great place for entrepreneurs to launch new ideas, and we are proud to support them in building both an innovative company and a better community.
Amarjeet Sohi is mayor of Edmonton.